Dear Luna,
Here's something I wish you could correctly pronounce someday, Mtskheta.
Because mummy can't. I tried so many times 'til I ended up with a sore throat.
It's the name of a city we visited this morning. We're currently traveling Georgia (the country in Caucasus, not the U.S. state) and it was the first place we toured outside the capital Tbilisi. Such an interesting place, this Mtskheta. It's one of oldest continuously inhabited cities in the world! Remains have been dated to earlier than year 1000 BC. That's a very very very long time ago, baby doll.
Like, earlier than the 'Once upon a time…' in fairy tales. Maybe.
Aaanyway, we visited Jvari Monastery (wherein you had fun making echoes, to the annoyance of a clergyman on guard) and Svetitskhoveli Cathedral (wherein we had to chase you everywhere). We hired grandpa cabbie who picked us up from the airport when we arrived in the country days prior to drive us around. He doesn't speak English (we only came across two Georgians who do) but we enjoyed his company. He likes classic rock which mom does too, and he played songs of this genre on his car's cassette player. He likes ice cream. And he likes you too.
Here's how our day went in snapshots. Some of them you took.
Svetitskhoveli Cathedral. Here you're wearing a shirt we bought from Istanbul.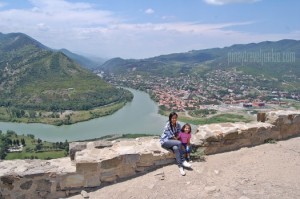 View of Mtskheta City center from Jvari Monastery. Pretty, ain't it?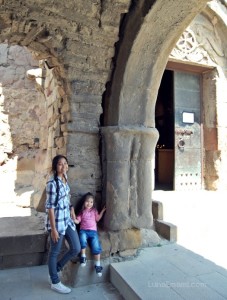 Jvari Monastery.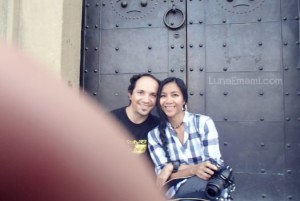 Thank you, for capturing mum's confused-smile. Now I know how it looks like.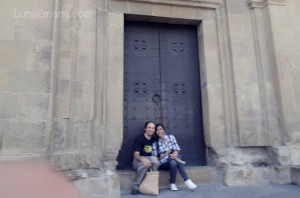 Another shot. With shaky hands.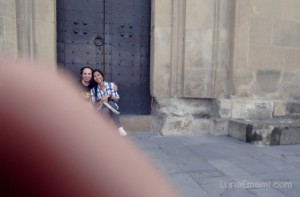 And another.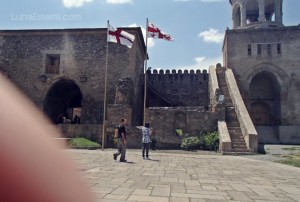 From Jvari to Svetitskhoveli Cathedral, you wanted to document 'moments' yourself.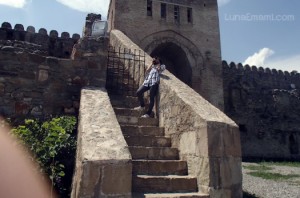 This shot of yours is my fave.
You can't sit for more than five seconds!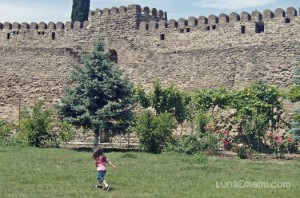 What did I tell you about chasing you everywhere?